Our Industry 4.0 solution is a powerful infrastructure and data combination that reduces your operational complexity, creating a productive end-to-end solution for industrial and manufacturing businesses.
As industrial environments are under pressure to become increasingly efficient and cost-effective, your IT must reduce complexity and intelligently capture and use data to enhance productivity.

On premise private cloud for added security

Build operational visibility with a full audit trail

Integrated into existing systems enhancing workflow
Our Industry 4.0 solution includes an on premise private cloud which is preconfigured with connectivity interfaces (e.g. OPC, Rockwell Factory Talk, MQTT Broker), real-time data capture, visualisation and analytics virtual servers. These application servers can be built using your own preferred applications or we can recommend 'best in class' based on your specific shop floor environment and spcecific business requirements.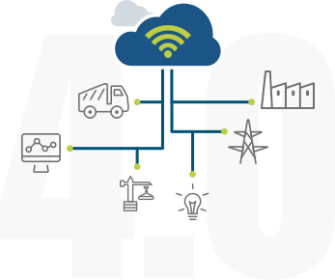 INDUSTRY 4.0 SOLUTION
Reduce the complexity of your IT environment, without compromising on flexibility.
POWERFUL IT PACKAGE
Providing all the benefits of the "Datacenter in a Box" virtualised platform, alongside the "Real-Time Data Capture" solution.
MANUFACTURING EXCELLENCE
IT solutions tailored specifically for the needs of industrial and manufacturing businesses to enhance productivity, at the scale required.
TRACEABILITY
Smart sensor connectivity captures data to build operational visibility and enhance procedures.
HYPERCONVERGENCE INFRASTRUCTURE
Remove IT complexity with this innovative virtualisation technology that provides flexibility and scalability.
CONNECTIONS
Integration to existing ERP systems to enhance the flow of data, and pre-configured to manufacturing applications.
CONSULTANCY
Design, installation and support based on decades of industry knowledge across large-scale industrial environments.
SOLUTIONS
Robust, intelligent and scalable IT solutions that deliver.
Industrial environments are often challenged by significant IT overheads and complexity. BVS solves the IT headaches with flexible software and hardware that provide intelligent, cost effective solutions.