Datacenter in a Box is a virtualised platform that enables your IT to be operationally effective as you grow.
BVS reduces the complexity and entry barriers for industrial and manufacturing infrastructure,
with an easy to manage and cost effective virtualised solution.
Scalable infrastructure providing what you need, when you need it

Innovative hyperconvergence platform

Simplified, integrated application-based system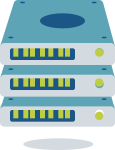 DATACENTER IN A BOX
Be confident that your IT infrastructure is ready for your future
BVS' all-in-one Datacenter in a Box solution provides industrial and manufacturing businesses with an on-premise virtualisation solution, without the complexity.
With the opportunity to scale IT to match business demands and support your future growth, Datacenter in a Box eliminates the need for significant upfront CAPEX investment
INTEGRATED APPROACH
Servers, storage and virtualisation software all in one system.
SCALE FOR GROWTH
Add systems and servers to provided additional operational ability as you grow.
MANAGEMENT
Simplified management delivering a self-healing, scalable solution and operationally efficient solution.
INDUSTRY CONFIGURED
Virtual machines can be pre-installed with industrial and manufacturing applications but customised to specific environments.
MINIMAL DISRUPTION
Pre-configured and swiftly integrated to the existing network to minimise business interruption.
HYPERCONVERGENCE
Innovative virtualisation technology that removes complexity, providing flexibility and scalability.
REMOVES BARRIERS
Access to an on premise virtualised solution, without the significant CAPEX, OPEX and licensing expense.
ROBUST & SECURE
Fault tolerant, proven solution that ensures peace of mind and access to specialist expertise.