Our on premise Private Cloud solution for industrial IT is a hyperconverged platform that enables your IT to be operationally effective as you grow.
Complete turnkey packages – can be supplied as an empty private cloud infrastructure only or supplied with prebuilt manufacturing systems. Packages include server rack, hyperconverged cluster, network switches, UPS, PDU and is fully cabled
We offer a number of standard, fully redundant, self healing 3 node clusters starting at under £14,000 for an Edge (nano datacentre) offering – Compute 12 cores, RAM 96GB, Storage (raw) SSD 480Gb + SAS 3TB
ENTRY LEVEL
Compute - 24 Cores, RAM - 192GB, Storage (RAW) – SAS 12TB

MID-RANGE
Compute - 48 Cores, RAM - 384GB, Storage (RAW) - SSD 2.8TB + SAS 36 TB

HIGH END
Compute - 60 Cores, RAM – 1.5TB, Storage(RAW) - SSD 17.2TB + SAS 216TB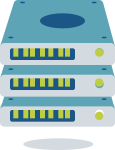 ON PREMISE PRIVATE CLOUD
Be confident that your IT infrastructure is ready for your future
BVS' all-in-one Hyperconverge solution provides industrial and manufacturing businesses with an on-premise virtualisation solution, without the complexity. Utilising the award winning HC3 appliance from Scale Computing
With the opportunity to scale IT to match business demands and support your future growth, hyperconverged solutions eliminate the need for significant upfront CAPEX investment
INTEGRATED APPROACH
Servers, storage and virtualisation software all in one system.
SCALE FOR GROWTH
Add systems and servers to provided additional operational ability as you grow.
MANAGEMENT
Simplified management delivering a self-healing, scalable solution and operationally efficient solution.
INDUSTRY CONFIGURED
Virtual machines can be pre-installed with industrial and manufacturing applications but customised to specific environments.
MINIMAL DISRUPTION
Pre-configured and swiftly integrated to the existing network to minimise business interruption.
HYPERCONVERGENCE
Innovative virtualisation technology that removes complexity, providing flexibility and scalability.
REMOVES BARRIERS
Access to an on premise virtualised solution, without the significant CAPEX, OPEX and licensing expense.
ROBUST & SECURE
Fault tolerant, proven solution that ensures peace of mind and access to specialist expertise.